You expect your baby to be taken care of during childbirth. But when doctors don't meet the standards we expect, mistakes can happen, and a birth injury claim may arise. If your baby has been injured during birth, you may be entitled to claim compensation.
What is a birth injury?
Broadly speaking, this is a physical or psychological injury sustained by either the baby or the mother during the birth process.  This does not always mean that the injury is sustained at the time of birth but it could have occurred at any stage during the pregnancy but which only became apparent when the child was born. 
If the injury was sustained during the pregnancy, this might be in the very early stages of pregnancy or when the pregnancy was well developed or even in the hours and minutes immediately prior to the child being delivered.  The phrase "birth injury" could also involve stillbirth or neonatal death.  A maternal death during the birthing process could also be included in a claim for compensation arising out of the handling of the birth of the child.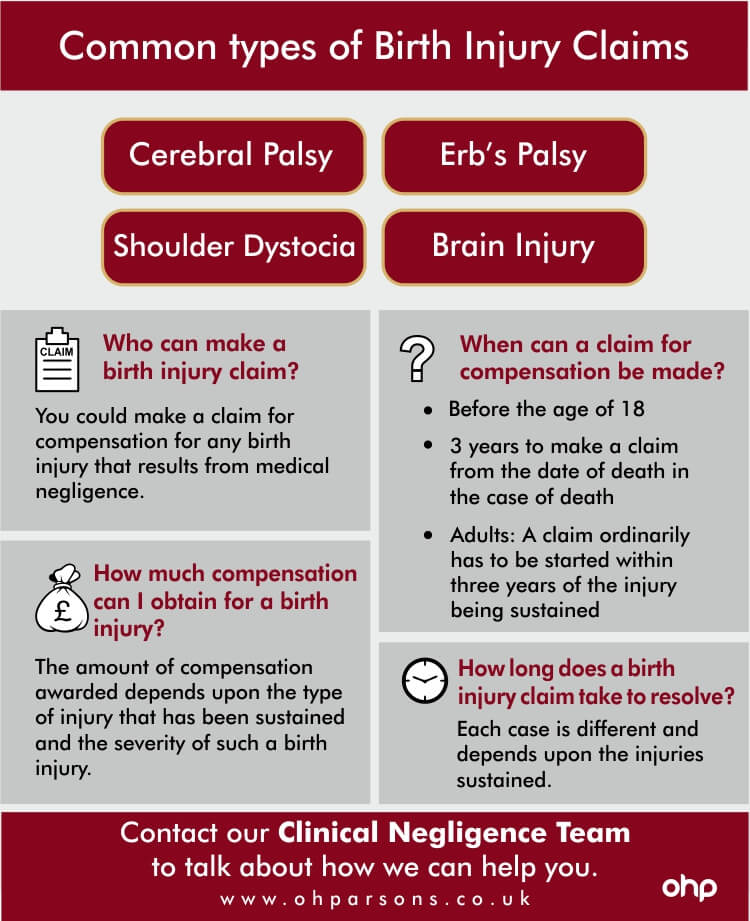 What are the types of birth injury claims?
Many of the injuries sustained at birth can have effects that are lifelong and impact on the quality of life of friends and family also as well as the injured individual.
Some of the more common types of birth injuries are cerebral palsy, Erb's palsy and shoulder dystocia.  Broken bones are also often a factor. Sometimes lack of oxygen supply to the brain causes injury to the brain which has lifelong consequences for the individual and for the family.
Who can make a birth injury claim?
You could make a claim for compensation for any birth injury that results from medical negligence.  If your baby has been injured due to mistakes by doctors, midwives or nursing staff before, during or after giving birth, then you may be entitled to make a claim for compensation on your baby's behalf. 
Our experienced Medical Negligence Solicitors have helped families claim compensation for a wide range of birth injuries.
When can a claim for compensation be made?
A claim on behalf of your child can be made at any time before their 18th birthday.  From the age of 18, they have three years to make a claim. 
If you are claiming for a child who has died as a result of a birth injury, you have three years to make a claim from the date of death.
If an adult has been injured as a result of an injury sustained in the birth process, a claim ordinarily has to be started within three years of the injury being sustained but it can be started from the time that you first realised that an injury is significant and has been caused by the actions of the medical professional.
Contact us if you have any questions about the time limits for bringing a claim. A free initial consultation can be available to you from our birth injury lawyers.
Is it possible to claim compensation for a birth injury on a "No Win No Fee" basis?
You can bring a claim on a "No Win No Fee" basis which is properly called a conditional fee agreement.  This means that you will only pay legal costs if you receive compensation and actually the costs would be recovered from your opponent.  If your claim is unsuccessful, you will not have to pay anything usually.
Whilst Legal Aid support might be available if your claim is for a child who has suffered a brain injury during birth, such Legal Aid support is not necessarily sufficient to allow you to progress the claim to a conclusion at Trial and access to some of the best medical experts may not be available to you.
We can discuss the issues of Legal Aid, "No Win No Fee" and other ways to pay for your case in your free initial consultation.
How much compensation can I obtain for a birth injury?
Our birth injury solicitors will discuss this with you as your claim progresses but we will aim to secure enough compensation to cover the costs of any rehabilitation, home adaptations and medical care that you may need.
We can connect you with support groups, charities and medical practitioners to support your child's recovery. 
The amount of compensation awarded depends upon the type of injury that has been sustained and the severity of such a birth injury.  It can include compensation for pain and suffering and what is known as loss of amenity meaning prevention of being able to do things that one would ordinarily have been able to do but for the injury. It can also include care and assistance provided by friends and family due to the original injury being sustained and also future care and assistance. 
Loss of earnings can be claimed as well as such things as aids and appliances, therapies and adaptations including accommodation. There are many other areas and types of compensation that can be awarded and our specialist team of Clinical Negligence Solicitors would be happy to discuss these with you in progressing your claim.
What can compensation pay for?
If you receive compensation, this can be used to pay for any care and support that your child needs including lifelong needs. This could include such things as Carers or aids and equipment to help them, specialist equipment the injured child may need, adaptations to your home as well as specialist therapies and treatments.
Do you sue the NHS as the Defendant in a birth injury claim?
If your treatment has been provided in an NHS hospital, the NHS Trust responsible for that hospital would be the named Defendant. If the fault lies with a General Practitioner then the General Practitioner would be the named Defendant or, if treatment had been paid for privately, the provider of that treatment would be the named Defendant. The NHS sets aside money each year to deal with claims that arise through negligent medical treatment. General Practitioners and private healthcare providers including private hospitals will have taken out forms of insurance to deal with any such claims. 
How long does a birth injury claim take to resolve?
Each case is different and depends upon the injuries sustained. Often it is not possible to identify the long-term impact on an individual of an injury sustained and it can be the case that the claims are finally resolved a number of years after the injury was actually sustained.  Part of this may be down to the approach of the Defendants and their representatives in what is perceived to be a policy of denying, defending and delaying an individual's entitlement to compensation and part of the timescale may be due to uncertainty as to the longer-term consequences for the injured individual.
The vast majority of medical procedures relating to birth are carried out to a very high standard but sometimes mistakes are made and it is these mistakes that can give rise to an entitlement to compensation. 
How can OH Parsons help you bring a claim?
We have a number of specialist medical negligence solicitors who have years of experience in handling birth injury claims. We listen to what your concerns are and identify what you are trying to achieve and then, in discussions with you, we will plan a way forward to help you achieve those goals. We will involve specialist medical experts and barristers as necessary and will work alongside you and work for you in progressing your claim for compensation.  Birth injuries are complex and it is helpful to have someone by your side to explain the process and options open to you and, at OH Parsons, we can provide you with this assistance.  Our specialist medical negligence solicitors understand how devastating it can be to deal with a serious birth injury to your child at what should be a happy time.  We will do all that we can to make sure that your child is looked after and gets the right amount of support. 
Contact our birth injury lawyer team to talk about how we can help you.